Scoil Mhuire Clarinbridge were winners of the DTEN D7 Board for the "Most Innovative Use of Zoom " Competition.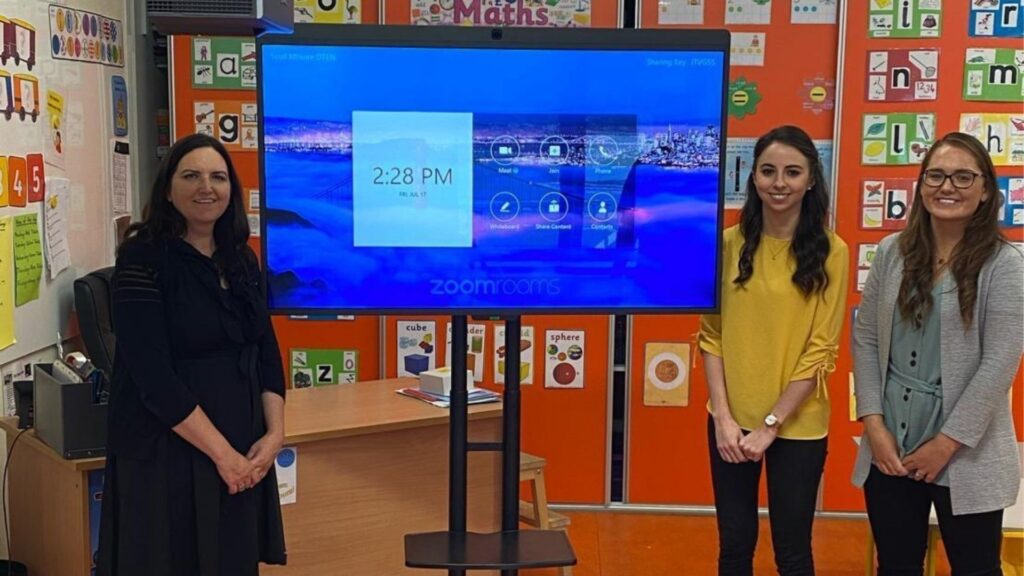 When you see the passion and creativity used by the staff and pupils at Scoil Mhuire in Clarinbridge for their recent Zoom competition entry it's not hard to see why they were crowned winners of our 'Most Innovative Use of Zoom' competition held by us here at IMS in 2020. The prize up for grabs was an incredible 55′ DTEN D7 all-in-one Zoom Room solution sponsored by DTEN.
The competition showcased the many benefits of virtual classrooms to pupils, that might never have been possible before and the endless opportunities for the future. The teachers who took part said that they felt that Zoom has helped bring out the best in teaching and changed the experience for the better with Zoom proving an essential tool not just during lockdown but also a helping hand in so many aspects going forward.
The winning entry was produced by Scoil Mhuire Clarinbridge teachers Susan Rushe, Ellen Walsh and Caroline Burke with the support of the school principal Sean Hogan and they were delighted to win a major national award for their efforts.
What becomes clear from watching their entry is the passion and creativity in their Zoom classes and how even the competition itself event helped to motivate everyone taking part to come up with even more creative ideas for their entries.
According to Scoil Mhuire Clarinbridge while they featured everything from Science experiments to Yoga classes, Online Quizzes, and even celebrity guests in their entry, one of the most memorable activities from their entry was the Virtual Grandparents Day.
Students' grandparents joined them in an online Zoom class and shared poems, songs, memories, and posters for each other and it was a very moving experience for all who took part. Some grandparents hadn't seen their grandchildren in some time so getting to experience what the children were doing in school proved a brilliant experience with the pupils proudly showing their grandparents what they had created for them.
The teachers were also very moved by the experience and agreed that one of the positives that have come from the virtual classroom experience is the ability to enter their student's homes and get to know them and their home lives and families better.
We caught up with Scoil Mhuire Clarinbridge teacher Susan Rushe recently to find out how she and her fellow teachers Ellen Walsh and Caroline Burke have been getting on since their win.
IMS: So what were the team at Clarinbridge Scoil Mhuire's favourite parts of preparing for the "Most Innovative Use of Zoom " competition?
Susan: We really enjoyed preparing for the competition. It was a great opportunity to work together and share ideas during 'Distant Learning'. It was a whole school community effort- teachers, children, parents and grandparents were involved!
We had very moving and heart-warming experiences thanks to Zoom and our Virtual Grandparents Day was truly special. We met grandparents from near and far, with our eldest participant being 90 years of age.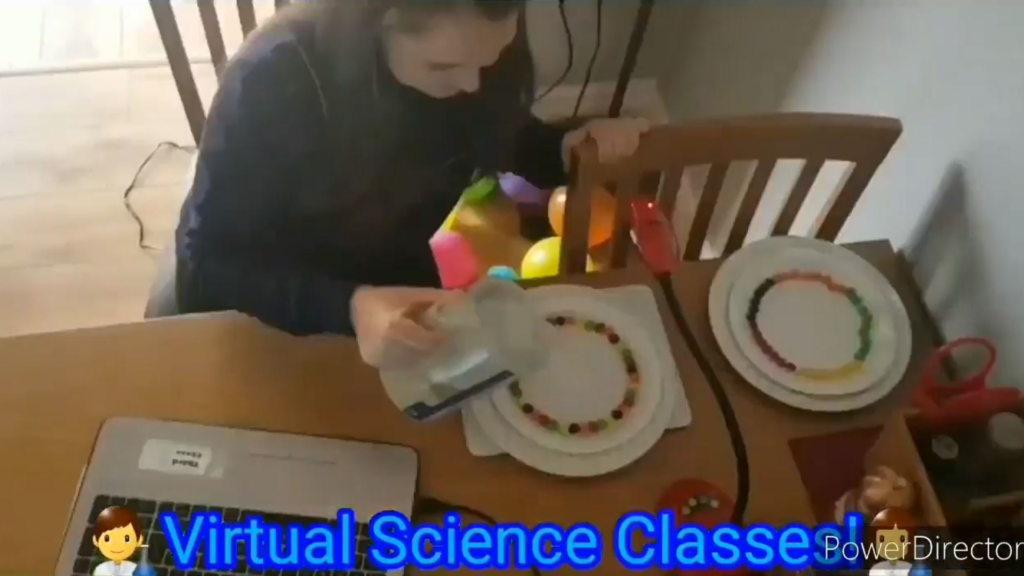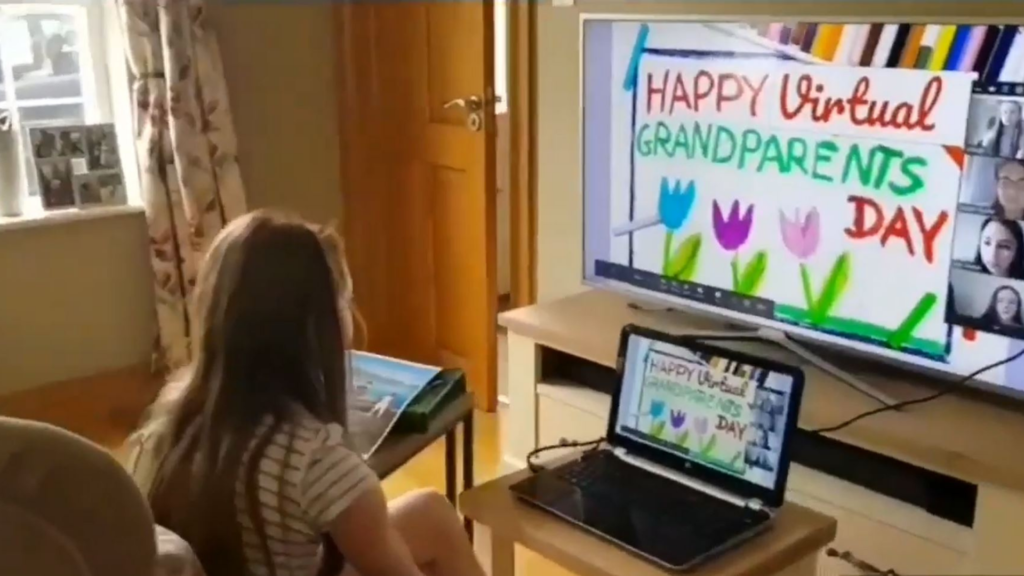 Teachers in our school downloaded the Zoom app to their phones and iPads and brought the children on trips to the seashore, the farm and on minibeast hunts. We really embraced Zoom on the go! We organised numerous well-being activities on Zoom, from meditation to yoga and even Qigong classes for the children and staff. We also held a special ceremony for our 2nd classes on what would have been their Communion Day and we also held a 'Virtual 6th Class Graduation'.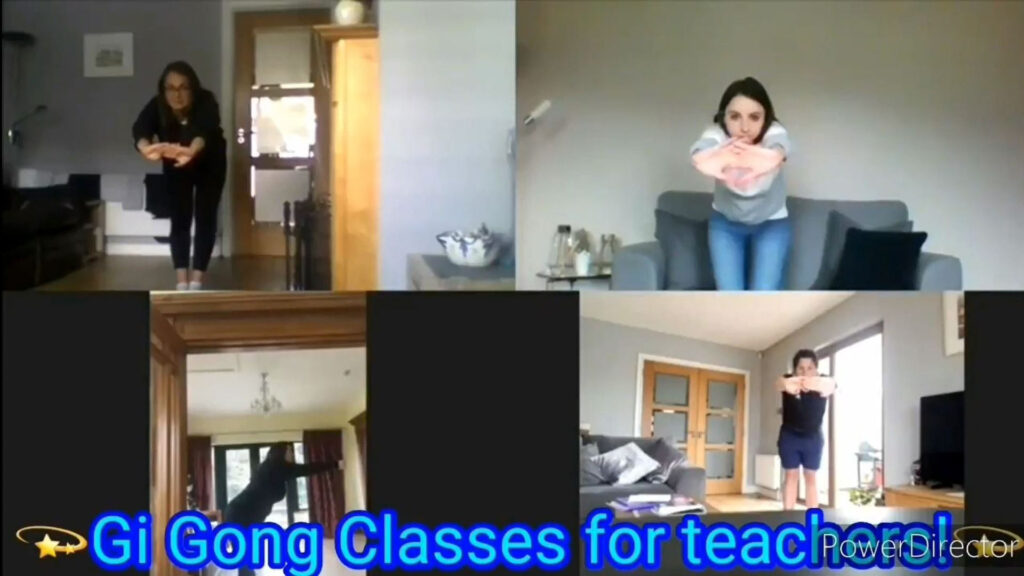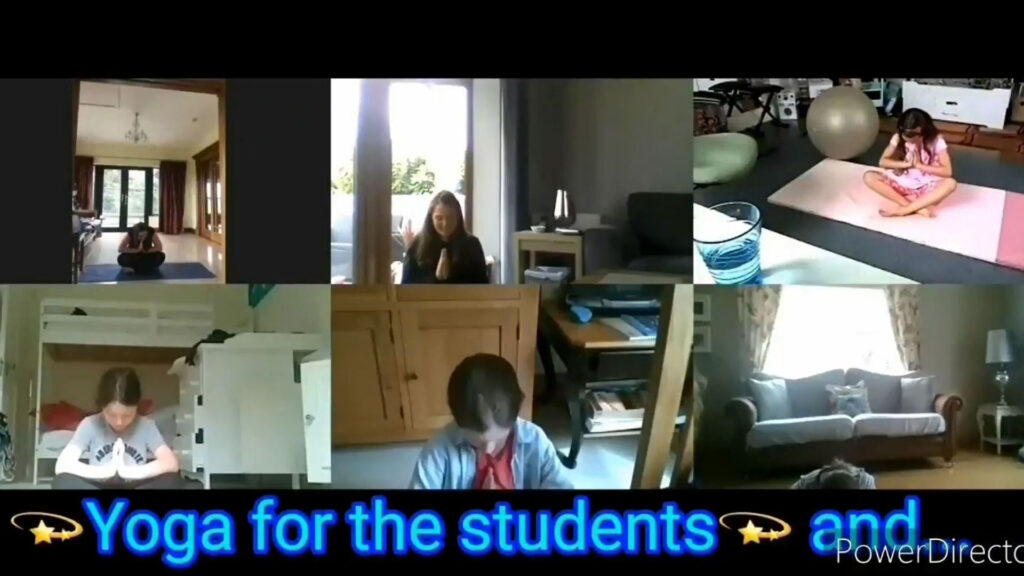 IMS: What were the children's favourite things to do on Zoom?
Susan: During 'Distant Learning', we feel that the children's favourite aspect of Zoom was seeing their friends! It was so lovely to see their faces 'light up' when they were able to see their teachers and their peers. The children really enjoyed the 'Virtual Dance Classes' and we also had great fun during our 'Zoom Art Classes'.
IMS: What part of using Zoom will you and the other teachers at Scoil Mhuire continue to use in the future even when you are in a traditional classroom setting?
Susan: We realised that the possibilities to use Zoom in the classroom are endless. This year, we have used our new DTEN screen to meet scientists, politicians and artists. We have also used our new screen to celebrate religious occasions with our local priest Fr.Barry. The children have been able to feel part of the whole school community through school assemblies on Zoom.
IMS: Finally then how has your school benefitted from your competition prize the DTEN D7?
Susan: 6th class took part in a TULCA education programme, they completed a six-week poetry and art project with two artists. The DTEN board provided the children with an opportunity to interact with the artists and engaged in a range of poetry, writing, and creative art lessons. 5th and 6th class have also used the DTEN board to take part in a virtual 'Ask me Anything' event. The children were given a unique opportunity to ask MEP Maria Walsh questions about the European Parliament. 4th class students used the DTEN board to take part in the 'Cell Explorers Programme' during Science Week. The children spoke to two scientists and extracted DNA from a banana while following the instructions from the scientists on the DTEN board.
The quality of the video on the DTEN board, along with the fantastic microphones have enabled the classes to meet and interact with people 'virtually'. The third classes made their First Holy Communion this September. Due to Covid 19, this class was unable to make their communion in May 2020. We wanted to make their ceremony and preparation for the Sacrament special for them. Fr. Barry, our parish priest, had Zoom calls using the DTEN with both classes to help them prepare for this special event in their lives. It was wonderful that he could visit, albeit virtually, with the children. We were able to wheel the DTEN into each classroom. The DTEN enabled all the pupils to be seen by Father Barry and they could be seated with appropriate social distancing between each pupil!  The fact that the DTEN board is on wheels has allowed a variety of classrooms to use Zoom.
The DTEN board is breaking the barriers allowing us to provide the pupils with opportunities to meet more people than we ever thought possible.
Due to Covid 19, one of our classes has moved to the school hall and are using the DTEN as their board. The whiteboard is very clear and can be seen easily by all pupils. We had some technical difficulties with it but we called IMS and they  promptly dealt with it. Using it as a whiteboard the teacher has connected their laptop directly to the DTEN using a HDMI cable which enables seamless streaming. The speakers work well in a classroom but in an area as large as the school hall additional speakers are needed. It is so versatile on wheels that if there is a shine on the board or one of the pupils cannot see the board, you simply move it.
This year, all our school assemblies have been held through Zoom. We are the lucky class that has the DTEN for these assemblies. It really helps the children to stay focused and engaged. Anytime we have used the DTEN with Zoom, the children really feel that the person is in the room. It is a wonderful resource to have most especially in these strange and unprecedented times.
IMS: We would like to thank Scoil Mhuire Clarinbridge teachers Susan Rushe, Ellen Walsh and Caroline Burke for taking time out of their busy schedules to let us know how they've been getting on since their big win. As you can see Zoom and the DTEN has opened up many fantastic opportunities within a school setting and can be used in so many different ways.